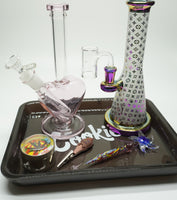 Smoke Accessories
We have searched high and low to fill our smoke shop with all of the best smoke accessories to ensure that you get the best bang for your buck!
Shop all of our top quality glass, quartz, and other 420 accessories!
Shop Smoke Accessories
CannaBliss Ceramic Cell Cartridges
Our ceramic ccell vaporizer cartridges come in a variety of colors, materials and sizes. Browse our collection of completely customizable cartridges and step up your cart game!
All cartridges have been designed for a smooth hit and multi-functional ease of use with the standard 510 threading.
Along with custom cartridges, CannaBliss Vape Co. is also happy to help you create your own brand- contact us by filling out our form for any custom orders and we will be happy to work with you to make a one of a kind cannabis packaging design!
Shop Cartridges